Vehicles with flashing coloured beacons are likely to cause a disturbance or distraction to other road users and may require drivers to take certain action; therefore, it is vital that drivers are aware of which types of vehicle show which colour lights and what this means for other road users. Follow our guide to get the full lowdown on flashing lights on vehicles.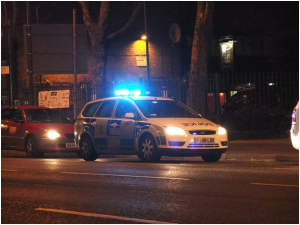 Green lights
Green is not one of the most commonly seen colours for a flashing beacon on a vehicle. This is because a green flashing light is only seen on a doctor's vehicle when the doctor is responding to an emergency. Although a vehicle with a green flashing beacon may be travelling quickly, it does not have priority over other road users.
Orange/amber lights
Vehicles with orange or amber coloured lights are seen fairly commonly on the road. These are present on vehicles that are slow-moving or stationary, may cause an obstruction, or have an abnormal load. The Highway Code advises that such vehicles require other road users to exercise extra caution. Examples of vehicles with orange or amber beacons include:
– Vehicles that have a 25 miles per hour maximum speed.
– Vehicles with a width of 2.9 metres or more.
– Breakdown recovery vehicles.
– Road clearance vehicles.
– Road and highway maintenance vehicles.
– Salt spreaders, snow ploughs etc.
Vehicles stopping on a highway or high-speed road for work or inspection purposes should also have additional high visibility markings to meet the Department of Transport Chapter 8 guidelines; for example, vehicles should have high visibility rear chevron markings in a conspicuous colour. Appropriate Chapter 8 chevrons are available from companies such as https://www.vehiclechevrons.com/.

Blue lights
Blue flashing lights can be seen on all other emergency vehicles on the roads. These vehicles are likely to be moving quickly and take priority over other road users; therefore, if you see a vehicle with blue flashing lights, you should pull over where appropriate to allow the vehicle to pass. Examples of vehicles with a blue flashing beacon include:
– Ambulance service.
– Fire service.
– Police.
– Coastguard.
– Mine rescue.
– Cave rescue.
– Mountain rescue.
– Blood transfusion.
– Bomb disposal.
– Nuclear emergency.
– HM Revenue & Customs (this would be only for very serious crimes).