When it comes to blankets, the material matters the most. Sure, it is important for the blanket to have a beautiful design. but the material certainly comes first. This is because comfort is what matters most when it comes to blankets. And when it comes to comfort, wool blankets are at the top of their game. Not only do they provide warmth, but they are also hypoallergenic, and they regulate temperature, thus they are fit for any season. Plus, they also wick moisture, so if you are worried about sweating during the night, this is not a problem for wool blankets. Some people say that wool makes their skin itch. This can indeed be a problem for rough and thick wool, but not for fine wool. One of the finest wool you can find is Irish merino wool. So if you need a soft and lightweight blanket, you can find Irish blankets at online stores where you can find various options regarding design and measures. Wool blankets are very useful items to have in your house, and there are two types that you need to have in your home. One is needed for warmth and comfort at night, while the other is also good at providing warmth and comfort, but it is also great for decorative purposes.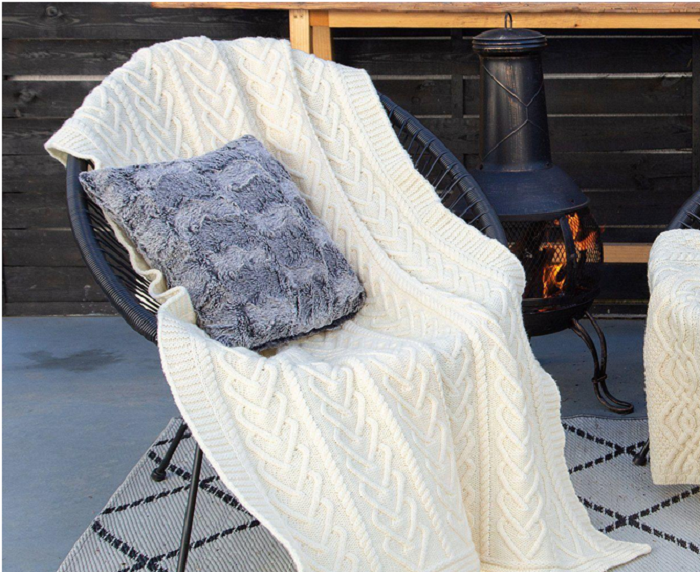 Wool comforter
Wool is the natural material that provides the most warmth. So a wool comforter is definitely the best option to keep yourself warm and cozy. A 100% wool comforter is a wonderful eco-friendly option and it will last you for years. If you think a 100% wool comforter might be a bit too expensive, put it into perspective: it is super warm, but temperature-regulating and moisture-wicking, so it is good for any season of the year because you won't feel extremely hot and won't sweat excessively if you cover yourself at night with it. Plus, it is extremely durable and bio-degradable, so it is a sustainable blanket that will last you for years. All in all, it has everything you can ask from a comforter.
Wool throw
A wool throw is a great item to have on cold evenings. You can wrap a throw around yourself like a shawl and lie on a chair outside to look at the stars or enjoy the evening air. You can also put it on while you're sitting on the couch reading or watching something. A throw is a smaller blanket, designed for one person, so it is comfortable to walk around the house wrapped in a cozy throw. But what's great about throws is that they also make wonderful decorative pieces. Nowadays, there are plenty of creative, stunning designs that you can choose from. Some of them are pure art. So, for example, choosing a wool throw designed with bold patterns in a vibrant color is a great way to revive an old sofa or add an interesting accent to an armchair. Plus, there is a certain ambiance that is creative by decorative throws. They create a feeling of homeliness like no other home decor accessory.