Recent research suggests that retailers in the UK are simply not ready to deal with an influx of shopping coming from China that could be costing them millions in profits each year.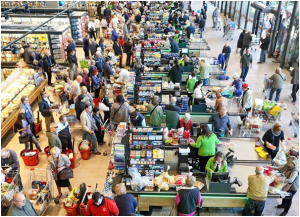 A research company, JGOO, which specializes in digital commerce, recently conducted research into the Chinese market. Chinese tourists could spend up to £1 billion in the UK over the 2020 financial year, but British retailers are not prepared. Few stores can converse in Chinese languages, such as Mandarin, and do not take China's popular e-payment platforms WeChat Pay and Alipay.

What's The Cause?
More and more Chinese tourists are traveling to the UK. 2019 saw an increase in weekly flights from mainland China by 22%, and a rise in non-stop flights of 25%.
The Research Into The Chinese Market
JGOO ran research using mystery shoppers during December 2019 to explore the options available for Chinese shoppers. Mystery shoppers discovered that they were unable to pay using WChat or Alipay at four out of five non-luxury retailers at London's principal tourist destinations.
Luxury retailers have adapted better, with 41% able to process payments using both methods and 21% taking only Alipay. Almost 90% of the Chinese urban population use one of these two apps as their principal payment method, and half of the rural population use them on a regular basis. Only 12% of retailers reviewed had staff able to speak Mandarin.
Richard Morecroft, the co-founder of JGOO, has said that shopping is the principal pastime of Chinese tourists during visits to the UK. He added that his research showed that, despite shops in the UK being in prime position to benefit from Chinese tourism, they are not ready to engage with them and potentially losing millions of pounds each year in sales.
JGOO is one of a select number of companies that provide a gateway for British goods, whether physical or soft tech such as PDF to Excel specialists like https://pdftables.com/, to the Chinese market.
China's cross-border commerce market is worth over £88 billion in total, with Chinese consumers making up to a quarter of all purchases. Research has found that the average spend is over £600 per year, with women spending 20% more than men. The UK needs to get up to speed with the Chinese market soon, or it could face losing out.